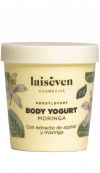 With orange blossom and moringa extract. The moisturising moringa body cream with yoghurt texture is formulated with the utmost delicacy, highlighting its rapid absorption, as unlike other moisturisers, there is no need for the skin to be completely dry before applying. Its content in shea butter, orange blossom extract and moringa extract have a great power of hydration and nutrition that improves the elasticity of the skin while repairing it.
Instructions for use: Apply to dry or damp skin and massage in gently.
Vegan. 100% recyclable.
Natural

Vegan

Innovation

Cruelty free

Health

Recyclable